Blizzard Entertainment's WarCraft III developed an extensive system for the game which allowed custom maps to be a whole game of its own like the cult Defense of the Ancients or "DotA". This has inspired many developers to create a stand-alone version of the game, making "DotA" a genre of its own, a sub-genre of the "3-Corridor" genre.
Tomorrow, May 12th, the most ambitious and largest of this type of multiplayer game is going to launch - Heroes of Newerth by S2 Games, developers of the popular online multiplayer games Savage: The Battle for Newerth (2003) and its sequel Savage 2: A Tortured Soul (2008).
Follow up:
Heroes of Newerth is set in the world of Newerth. But instead of the online multiplayer format, it takes on the DotA format where players command heroes to attack his enemies and guide them to their base to annihilate the enemy.
HoN boasts 2 million beta subscribers and an active, loyal community. One can say that the game is poised to be the number one player in a competitive market.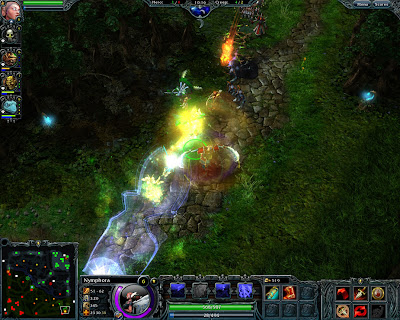 "It's been an amazing three years so far", states Marc DeForest, CEO and Founder, S2 Games. "We've had such a good ride through the Beta period, now we're looking forwards to getting the retail version out to as many people as possible. The team has put a lot into making this game the best multiplayer experience it can be, and we're looking forwards to new and old fans alike playing and enjoying Heroes of Newerth."
There are two teams of up to five players each playing a vital role of playing special Hero units to their specialized and maximum abilities. As the match progresses, players can earn experience and gold which can be used to upgrade skills or purchase items to make their character more powerful.
Hon Features:
Dozens of playable Hero characters, over 100 items as well as regular content updates to ensure no two games of HoN will ever be the same.
Client/Server Architecture eliminates lag, cheats, and map hacking.
Quick reconnect feature allows players to jump right back into their game should they get disconnected.
In-game VoIP for fast and easy communication with teammates.
Game archives and replay support for all games played on official servers (players can rewind, slow down, fast forward, and otherwise pinpoint the exact part of a match that they wish to view).
Built upon the proprietary K2 engine to deliver enhanced graphics while maintaining low system specs.
Powerful map editor and mod capabilities.
Available in six (6) languages: English, French, Spanish, German, Portuguese, and Russian.
Best of all, it is available for PC, Mac, and Linux gamers!!
The retail game will be selling for U$30.00 (exchange rates apply) only from www.heroesofnewerth.com for Windows, Mac, and Linux gamers.
System Requirements
Linux
Minimum

Processor: Intel Pentium 4 2.2GHz / AMD 2400+ or faster
RAM: 1GB
Video Card: 128MB fully OpenGL 2.0 / GLSL 1.20 compliant GeForce or Radeon
Internet Connection Required

Recommended

Processor: Intel Core2Duo 2.0GHz / AMD 3500+ or faster
RAM: 1.5GB or higher
Video Card: 256MB GeForce 7800+ or Radeon X1900+
Internet Connection Required - Broadband
Windows
Minimum

Processor: Intel Pentium 4 2.2GHz / AMD 2400+ or faster
RAM: 1GB
Video Card: GeForce 5 and ATI 9800 with 128MB VRAM
OS version: Windows 7, Vista, XP, or 2000
Internet Connection Required

Recommended

Processor: Intel Core2Duo 2.0GHz / AMD 3500+ or faster
RAM: 1.5GB or higher
Video Card: 256MB GeForce 7800+ or Radeon X1900+
OS version: Windows 7, Vista, XP, or 2000
Internet Connection Required - Broadband
Mac OS X
Minimum

Processor: Intel Processor
RAM: 1GB
Video Card: 128MB fully OpenGL 2.0 / GLSL 1.20 compliant GeForce or Radeon
OS version: OS X 10.4 or newer
Internet Connection Required

Recommended

Processor: Intel Core2Duo 2.0GHz or faster
RAM: 1.5GB or higher
Video Card: 256MB geForce 7800+ or Radeon X1900+
OS version:
Internet Connection Required - Broadband

Supported video cards:

OS X 10.4: GeForce 8600; Radeon HD 2400 or higher
OS X 10.5: GeForce 7300; Quadro FX 4500; Radeon X1600 or higher
Note: Integrated Intel GMA 950/X3100 is not supported
Social Sites
Discuss and talk about this game here: gameshogun forums
In General
blog comments powered by

Disqus